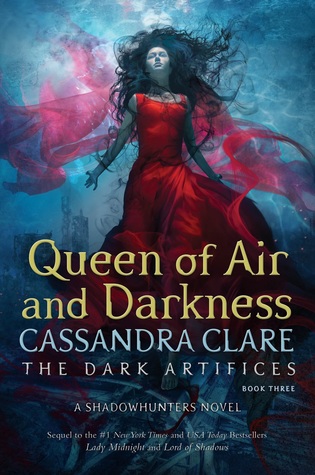 Book Title: Queen of Air and Darkness
Author: Cassandra Clare
Book Series: The Dark Artifices, #3
Rating: ⭐⭐⭐⭐⭐
What if damnation is the price of true love?

Innocent blood has been spilled on the steps of the Council Hall, the sacred stronghold of the Shadowhunters. In the wake of the tragic death of Livia Blackthorn, the Clave teeters on the brink of civil war. One fragment of the Blackthorn family flees to Los Angeles, seeking to discover the source of the disease that is destroying the race of warlocks. Meanwhile, Julian and Emma take desperate measures to put their forbidden love aside and undertake a perilous mission to Faerie to retrieve the Black Volume of the Dead. What they find in the Courts is a secret that may tear the Shadow World asunder and open a dark path into a future they could never have imagined. Caught in a race against time, Emma and Julian must save the world of Shadowhunters before the deadly power of the parabatai curse destroys them and everyone they love.
My Review and Thoughts
First off, Queen of Air and Darkness took me awhile to get through, not because of the length of the novel, but because I was going through a lot mentally and I just took multiple breaks with it. This third and final installment to The Dark Artifices picked up directly right where Lord of Shadows left off and that made my heart so heavy and broken throughout the first half of this novel.
I wouldn't be able to tell you how many times I cried within the first 30-50 pages. Everything just tugged at my heartstrings more than the previous novel, especially when a certain character's name was brought up. I ended up sobbing multiple times until I got through of the novel.
Reading Queen of Air and Darkness made me fall more in love with all of the original characters that were in Cassandra's previous novels, however in some scenes of the novel I did end up becoming a little annoyed with Jules and Emma. Yes, I love them as characters, but with some scenes with those two in it was a little unnecessary.