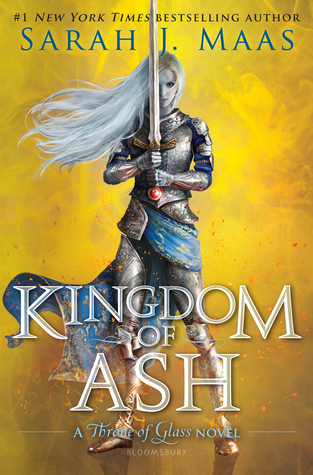 Book Title: Kingdom of Ash
Author: Sarah J. Maas
Book Series: Throne of Glass
Release Date: October 23rd, 2018
Rating: ⭐⭐⭐

Aelin has risked everything to save her people―but at a tremendous cost. Locked within an iron coffin by the Queen of the Fae, Aelin must draw upon her fiery will as she endures months of torture. Aware that yielding to Maeve will doom those she loves keeps her from breaking, though her resolve begins to unravel with each passing day…

With Aelin captured, Aedion and Lysandra remain the last line of defense to protect Terrasen from utter destruction. Yet they soon realize that the many allies they've gathered to battle Erawan's hordes might not be enough to save them. Scattered across the continent and racing against time, Chaol, Manon, and Dorian are forced to forge their own paths to meet their fates. Hanging in the balance is any hope of salvation―and a better world.

And across the sea, his companions unwavering beside him, Rowan hunts to find his captured wife and queen―before she is lost to him forever.
My Thoughts on the novel
Well, first off, Kingdom of Ash took me forever to get through, hence why I was barely writing blog posts and just reviewing books in general because I was only reading this novel. My brain was solely focused on this last chapter of this surprisingly long series. So, my apologies for being invisible, however, I am so glad that I finally finished this book and series in a whole.
Yes, I thought this was a satisfying ending, but the length of the novel was sort of unnecessary in my opinion. Most of the time there was too much detail in the battle scenes and I just wanted to get to another scene after awhile. This is the main reason why I had to take off a star. Other than that, I purely enjoyed the ending and am happy with how each character's storyline ended, especially Rowan's and Aelin's, which is shocking to me because those two were low-key my least favorite.
Find Me Here