Books I completed last week
none.
Books I'm reading this week
Interview with the Vampire by Anne Rice
This is the story of Louis, as told in his own words, of his journey through mortal and immortal life. Louis recounts how he became a vampire at the hands of the radiant and sinister Lestat and how he became indoctrinated, unwillingly, into the vampire way of life. His story ebbs and flows through the streets of New Orleans, defining crucial moments such as his discovery of the exquisite lost young child Claudia, wanting not to hurt but to comfort her with the last breaths of humanity he has inside. Yet, he makes Claudia a vampire, trapping her womanly passion, will, and intelligence inside the body of a small child. Louis and Claudia form a seemingly unbreakable alliance and even "settle down" for a while in the opulent French Quarter. Louis remembers Claudia's struggle to understand herself and the hatred they both have for Lestat that sends them halfway across the world to seek others of their kind. Louis and Claudia are desperate to find somewhere they belong, to find others who understand, and someone who knows what and why they are.
---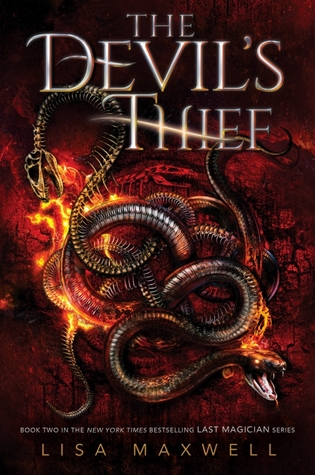 The Devil's Thief by Lisa Maxwell
Esta's parents were murdered. Her life was stolen. And everything she knew about magic was a lie. She thought the Book of Mysteries held the key to freeing the Mageus from the Order's grasp, but the danger within its pages was greater than she ever imagined.
Now the Book's furious power lives inside Harte. If he can't control it, it will rip apart the world to get its revenge, and it will use Esta to do it.
To bind the power, Esta and Harte must track down four elemental stones scattered across the continent. But the world outside the city is like nothing they expected. There are Mageus beyond the Brink not willing to live in the shadows—and the Order isn't alone in its mission to crush them.
---
Find Me Here