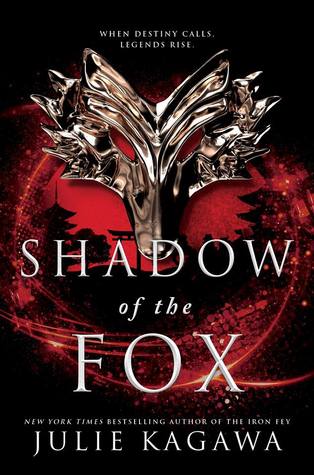 Book Title: Shadow of the Fox
Book Series: Shadow of the Fox, #1
Author: Julie Kagawa
Published: October 2nd, 2018
Rating: ⭐⭐⭐⭐
One thousand years ago, the great Kami Dragon was summoned to grant a single terrible wish—and the land of Iwagoto was plunged into an age of darkness and chaos.

Now, for whoever holds the Scroll of a Thousand Prayers, a new wish will be granted. A new age is about to dawn.

Raised by monks in the isolated Silent Winds temple, Yumeko has trained all her life to hide her yokai nature. Half kitsune, half human, her skill with illusion is matched only by her penchant for mischief. Until the day her home is burned to the ground, her adoptive family is brutally slain and she is forced to flee for her life with the temple's greatest treasure—one part of the ancient scroll.

There are many who would claim the dragon's wish for their own. Kage Tatsumi, a mysterious samurai of the Shadow Clan, is one such hunter, under orders to retrieve the scroll…at any cost. Fate brings Kage and Yumeko together. With a promise to lead him to the scroll, an uneasy alliance is formed, offering Yumeko her best hope for survival. But he seeks what she has hidden away, and her deception could ultimately tear them both apart.

With an army of demons at her heels and the unlikeliest of allies at her side, Yumeko's secrets are more than a matter of life or death. They are the key to the fate of the world itself.
My Review and Thoughts
Shadow of the Fox was one of those novels that really surprised me the deeper I got into the story. Of course I have read Julie Kagawa's other works, but that was when I was a teen so I was surprised by this writing style and impressed as well. Honestly, I haven't really read anything from her since I completed the Iron Fey books because at that time my taste in genres changed rapidly.
However, when I saw this specific novel sitting on the shelves at B&N and skimmed the synopsis, I knew I just had to give Julie's novels a second try, and soon after completely Shadow of the Fox, I am beyond glad I did.
If anyone has read The Iron Fey series and then this novel, you can definitely tell her writing style has improved.
---
The Plot
The plot for Shadow of the Fox was interesting to me. Yes, I have read these kinds of books in the past, back when I was younger, but honestly, this one definitely beat those ones for the spot on my favorites list. It was full of a lot of twists and turns, not to mention, the story is told through the eyes of the character who shapeshifts into a fox, so I thought that was pretty cool. I did, however, find it a little repetitive the further I got, but that was the only thing that kind of kind of tiring
---
The Characters
Now, for the characters, I thought they were a lot of fine, especially the main character of this novel. It was just fun reading this story through the eyes of a fox aka my favorite animal. At some parts of the novel, I somewhat forgot that he was an animal until the paragraph mentioned a ear twitch or other animal-related things.
---
Overall Thoughts
Nevertheless, Shadow of the Fox was truly entertaining and I am glad that I decided to pick it up because if I never did, who knows how long it would've taken me to get around to it, plus it made me excited for the sequel's release next year.
---
Find Me Here