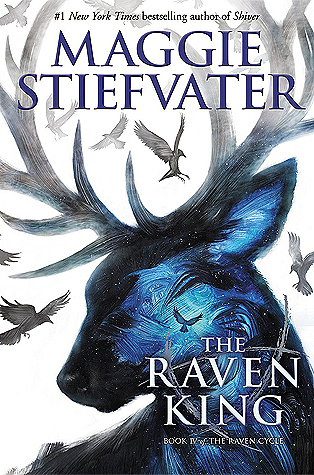 Book Title: The Raven King
Author: Maggie Stiefvater
Book Series: The Raven Cycle, #4
Page #: 439
Rating: ⭐⭐⭐⭐⭐
All her life, Blue has been warned that she will cause her true love's death. She doesn't believe in true love and never thought this would be a problem, but as her life becomes caught up in the strange and sinister world of the Raven Boys, she's not so sure anymore.
My thoughts on the novel
I have finally completed this series after putting it off for a little while. Now, I can breathe after releasing that heavy weight on my chest from putting this series off for so long. I couldn't even give you a proper excuse to why it took me awhile. It just did, but that is in the past.
The Raven King has got to be my favorite out of all of the novels in this series. Most of the time the last novel in a series pretty much is because you get to see everything that has been building up in the previous novels unfold entirely. The closer I got to the end of the book, my more on edge I was, and that, for me, is how it should be.
All of the characters were so well developed compared to the first novel, which made it 5x emotional once I got to the last couple of chapters. Deep down I knew something was going to happen to one of the main characters, however, the tears still came and wouldn't stop long after I completed the novel.
In conclusion, I am glad with how The Raven King ended. We got both a happy and sad ending and that is all that matters.
Find Me Here