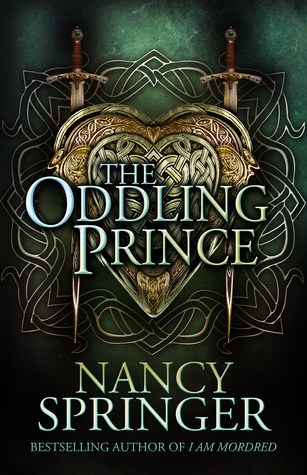 Book Title: The Oddling Prince
Author: Nancy Springer
Expected Publication: May 15th, 2018
Rating: 🌕🌕🌕🌗
In the ancient moors of Scotland, the king of Calidon lies on his deathbed, cursed by a ring that cannot be removed from his finger. When a mysterious fey stranger appears to save the king, he also carries a secret that could tear the royal family apart.

The kingdom's only hope will lie with two young men raised worlds apart. Aric is the beloved heir to the throne of Calidon; Albaric is clearly of noble origin yet strangely out of place.

The Oddling Prince is a tale of brothers whose love and loyalty to each other is such that it defies impending warfare, sundering seas, fated hatred, and the very course of time itself. In her long-awaited new fantasy novel, Nancy Springer (the Books of Isle series) explores the darkness of the human heart as well as its unceasing capacity for love.
What a wild ride I just took with this novel. The Oddling Prince was both a fast paced and intriguing tale about two brothers. Aric, the beloved heir to the throne, and Albaric, who is somewhat the oddball – or Oddling – in the family. Throughout this novel, we get to see both of these characters become close despite the difference in each of them. The Oddling Prince is told in Aric's point of view, which is not what I was expecting as I went into this. I thought it would be told by Albaric.
MY EXPERIENCE WITH THIS BOOK
Like usual, I didn't even know a single thing about this novel until I went on NetGalley one day. The cover was the first thing that caught my eye as usual, and I was instantly intrigued by it, so I was like 'What the heck, it might be good.' And I was not wrong at all. Although it did take me awhile to actually get into the story. With reading Fantasy books, it just takes me a few chapters to get into a whole new world, not too mention, get used to the writing style, which reminds me, the writing style for this became extremely beautiful towards the middle of the novel.
The characters were fleshed out incredibly by the end of the book that it left me wanting just a tad bit more. Not to mention, the relationship between Aric and Albaric just made my heart melt every time they were in a scene together. I did find myself a little frustrated with how the king treated Albaric, but hey, it all was alright towards the end.