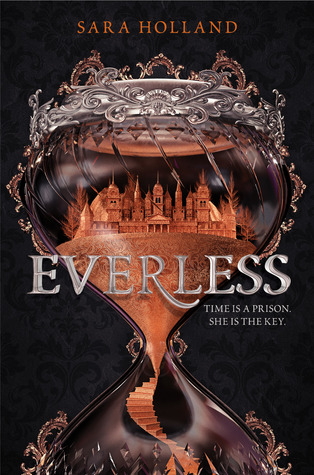 Book Title: Everless
Author: Sara Holland
Book Series: Everless, #1
Published: January 2nd, 2018
Rating: 🌕🌕🌕🌕
In the kingdom of Sempera, time is currency—extracted from blood, bound to iron, and consumed to add time to one's own lifespan. The rich aristocracy, like the Gerlings, tax the poor to the hilt, extending their own lives by centuries.

No one resents the Gerlings more than Jules Ember. A decade ago, she and her father were servants at Everless, the Gerlings' palatial estate, until a fateful accident forced them to flee in the dead of night. When Jules discovers that her father is dying, she knows that she must return to Everless to earn more time for him before she loses him forever.

But going back to Everless brings more danger—and temptation—than Jules could have ever imagined. Soon she's caught in a tangle of violent secrets and finds her heart torn between two people she thought she'd never see again. Her decisions have the power to change her fate—and the fate of time itself.
Everless was another 2018 anticipated release for me. The synopsis definitely caught my attention when I went to the bookstore. It just sounded like something I have never read before, and, honestly, Everless did not disappoint me at all. However, due to the pacing of the novel, I had give the book four stars instead of five, but the novel still was enjoyable. The big part of it was definitely the writing style. Every single word just flowed well with one another.
MY EXPERIENCE WITH THIS BOOK:
This is one of those books that I picked up as an audiobook because I was busy with other things at the time, and, of course I enjoyed listening to it. The narrator did a fantastic job at portraying each of the characters.
THE PLOT:
Now, for the plot of the story was a little confusing to me most of the time. It would get to a scene that I was perfectly okay with, and then it would switch and start talking abouth the Alchemists, and because of this small thing, I might give Everless another try but as a physical read because most of the time my attention was not entirely on the story during my busy days.