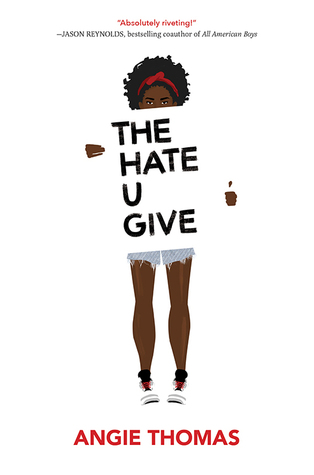 Book Title: The Hate U Give
Author: Angie Thomas
Published: February 28th, 2017
Rating: 🌕🌕🌕🌕🌕
Sixteen-year-old Starr Carter moves between two worlds: the poor neighborhood where she lives and the fancy suburban prep school she attends. The uneasy balance between these worlds is shattered when Starr witnesses the fatal shooting of her childhood best friend Khalil at the hands of a police officer. Khalil was unarmed.

Soon afterward, his death is a national headline. Some are calling him a thug, maybe even a drug dealer and a gangbanger. Protesters are taking to the streets in Khalil's name. Some cops and the local drug lord try to intimidate Starr and her family. What everyone wants to know is: what really went down that night? And the only person alive who can answer that is Starr.

But what Starr does or does not say could upend her community. It could also endanger her life.
I finally got the chance to read this novel, and I truly enjoyed it. I am very happy that this specific story actually exists, especially with all that's going on in America these days.
"What's the point of having a voice if you're gonna be silent in those moments you shouldn't be?"
 I chose to pick the audiobook for this up on a very busy day and it was truly entertaining. The narrator did a fantastic job at bringing the voice of Starr, and the story, to life.
The narrator had me laughing one moment and then I was feeling bad for the characters the next. It was a whirlwind of feelings and stress just over the few days or week that I read this book.
"At an early age I learned that people make mistakes, and you have to decide if their mistakes are bigger than your love for them."
I'm truly grateful that Angie Thomas decided to write a book that centered around police brutality, the Black Lives Matter, and shows us the heartbreaking aftermath.
side note: I am for sure going to see the film adaptation when it comes out.