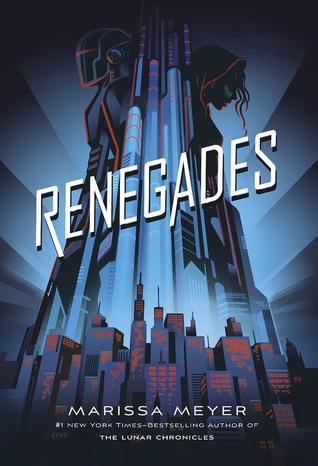 Book Title: Renegades
Author: Marissa Meyer
Book Series: Renegades, #1
Released Date: November 7th, 2017
Rating: 🌕🌕🌕🌕🌕
Secret Identities. Extraordinary Powers. She wants vengeance. He wants justice.

The Renegades are a syndicate of prodigies — humans with extraordinary abilities — who emerged from the ruins of a crumbled society and established peace and order where chaos reigned. As champions of justice, they remain a symbol of hope and courage to everyone… except the villains they once overthrew.

Nova has a reason to hate the Renegades, and she is on a mission for vengeance. As she gets closer to her target, she meets Adrian, a Renegade boy who believes in justice — and in Nova. But Nova's allegiance is to a villain who has the power to end them both.
I thought I wouldn't enjoy anything else from Marissa Meyer after enjoying and loving the Lunar Chronicles by her. That sounds strange now that I say it out loud, honestly, but I was so in love with the other novels that I couldn't stop thinking about them for days. Now, for Renegades, this particular novel definitely got me out of that book hangover.
The world building and plot was so intriguing that I found myself quickly flipping the pages and staying up way past my bedtime whenever I got to a good part in the book.
Now, for the two main characters we get to see are honestly my favorite out of every character Marissa has created in the past. Not only is the romance between the two main characters was a slow burn, which was a relief for me, it got me excited for the second installment.