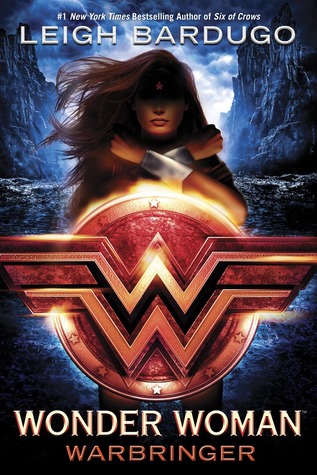 Book Title: Wonder Woman: Warbringer
Author: Leigh Bardugo
Book Series: DC Icons, #1
Published: August 28th, 2017
Pages: 364
Rating: ⭐⭐⭐⭐⭐
Daughter of immortals.

Princess Diana longs to prove herself to her legendary warrior sisters. But when the opportunity finally comes, she throws away her chance at glory and breaks Amazon law—risking exile—to save a mortal. Diana will soon learn that she has rescued no ordinary girl, and that with this single brave act, she may have doomed the world.

Daughter of death.

Alia Keralis just wanted to escape her overprotective brother with a semester at sea. She doesn't know she is being hunted by people who think her very existence could spark a world war. When a bomb detonates aboard her ship, Alia is rescued by a mysterious girl of extraordinary strength and forced to confront a horrible truth: Alia is a Warbringer—a direct descendant of the infamous Helen of Troy, fated to bring about an age of bloodshed and misery.

Together.

Two girls will face an army of enemies—mortal and divine—determined to either destroy or possess the Warbringer. Tested beyond the bounds of their abilities, Diana and Alia must find a way to unleash hidden strengths and forge an unlikely alliance. Because if they have any hope of saving both their worlds, they will have to stand side by side against the tide of war.
Yes, I sort of read the DC Icons series out of order, but since they really don't connect like other book series' do, it's fine. I have no shame at all about it.
Now, if you are not familiar Diana's story then…what have you been doing your whole life? No, I'm kidding, but seriously. 😜
As someone who grew up watching superhero films and cartoons thanks to having a younger brother, I pretty much grew up with Wonder Woman, but I'm sorry to say Batman will be my forever #1.
Anyway, onto the rest of the review.
So, when I heard the news about Leigh Bardugo writing a novel about our powerful Amazonian warrior, I screamed with excitement and just had a mild fangirl moment–which led to a full day of excitement.
Although it did take me awhile to finally get my hands on a copy. Remind you, every time I went to the store, I would pick it up and put it back down when I had a little too many books, but that is in the past now. However, I own the physical copy, I did choose to listen to the audiobook, and I am so glad I did. The narrator did a fantastic job at telling Diana's story.
All of the characters, besides Diana, were beautifully written and I immediately had a vivid picture of what each of them looked like from the start. All of Diana's friends were a joy to get to know and Leigh Bardugo did an excellent job at expressing that friendship all the way through the book.
Overall, if we were giving out letter grades, this would have to be a solid A+ in my opinion. It was raw and powerful. I definitely felt empowered soon after finishing it.