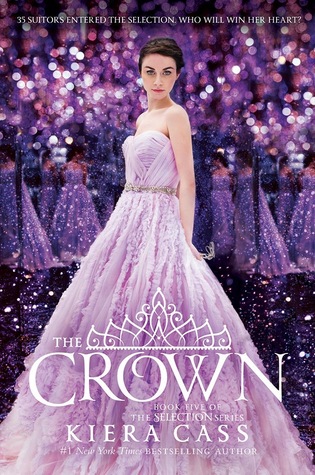 Book Title: The Crown
Author: Kiera Cass
Published: May 3rd, 2016
Page #: 278
Rating: ⭐⭐⭐
When Eadlyn became the first princess of Illéa to hold her own Selection, she didn't think she would fall in love with any of her thirty-five suitors. She spent the first few weeks of the competition counting down the days until she could send them all home. But as events at the palace force Eadlyn even further into the spotlight, she realizes that she might not be content remaining alone.

Eadlyn still isn't sure she'll find the fairytale ending her parents did twenty years ago. But sometimes the heart has a way of surprising you…and soon Eadlyn must make a choice that feels more impossible—and more important—than she ever imagined.
---
Before we get into this review, I just want to get this out of the way, I decided to finish this series this month because it is fluffy and puts me in a lovey-dovey mood. Also, it's February aka known as the month of love because of Valentine's Day, and me being single, these types of books are my only connection to make my heart flutter a bit.
Although, these series annoys me most of the time, I just had to see how the entire series ended, and you know what? I kind of liked it, but the bookworm in me was kind of done with this entire series that it didn't make me feel anything at all.
There was a little improvement in Eadlyn's character, but she did still annoy me every now and then. I did find myself rolling my eyes at some of the stuff she did, and smile when she treated her parents with respect–which for me, that was a major improvement from the previous novel.
Finally, I was going to give The Crown two stars, but due to the little character development, I bumped my rating up to three instead.
---