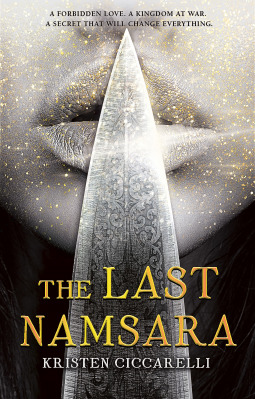 Book Title: The Last Namsara
Author: Kristen Ciccarelli
Published: October 3rd, 2017
Reading Format: Hardcover
Rating: ⭐⭐⭐⭐⭐
In the beginning, there was the Namsara: the child of sky and spirit, who carried love and laughter wherever he went. But where there is light, there must be darkness—and so there was also the Iskari. The child of blood and moonlight. The destroyer. The death-bringer.

These are the legends that Asha, daughter of the king of Firgaard, has grown up learning in hushed whispers, drawn to the forbidden figures of the past. But it isn't until she becomes the fiercest, most feared dragon slayer in the land that she takes on the role of the next Iskari—a lonely destiny that leaves her feeling more like a weapon than a girl.

Asha conquers each dragon and brings its head to the king, but no kill can free her from the shackles that await at home: her betrothal to the cruel commandant, a man who holds the truth about her nature in his palm. When she's offered the chance to gain her freedom in exchange for the life of the most powerful dragon in Firgaard, she finds that there may be more truth to the ancient stories than she ever could have expected. With the help of a secret friend—a slave boy from her betrothed's household—Asha must shed the layers of her Iskari bondage and open her heart to love, light, and a truth that has been kept from her.
---
I didn't think I would adore and enjoy this novel as much as I did. When I found out this was about dragons, I knew I had to get my hands on it immediately. Soon after purchasing this at the bookstore, I quickly dived right into it , and oh my goodness, I was hooked from the first few pages.
All of the dragons that appear in the book are extremely beautiful, and I wish I could own one of them. The main one I grew attached to was definitely Shadow, and I literally cried towards the end for a certain reason that I cannot tell. my lips are sealed shut (🤐), but let's just say: Make sure you have tissues at the ready. Trust. me.
Lastly, I am actually proud that the romance portion to this novel wasn't heavy. I mean, it was there, but it didn't slap you right in the face until the very end.
---