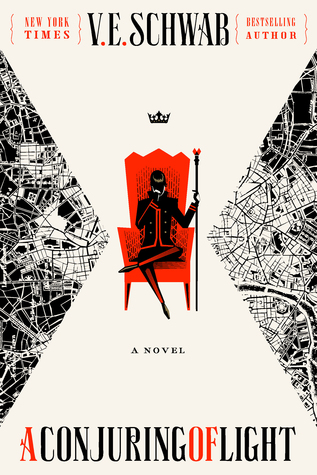 Book Title: A Conjuring of Light
Author: V.E. Schwab
Book Series: Shades of Magic, #3
Reading Format: Audible Audio
Rating: ⭐⭐⭐⭐⭐
Witness the fate of beloved heroes – and enemies.

THE BALANCE OF POWER HAS FINALLY TIPPED…
The precarious equilibrium among four Londons has reached its breaking point. Once brimming with the red vivacity of magic, darkness casts a shadow over the Maresh Empire, leaving a space for another London to rise.

WHO WILL CRUMBLE?
Kell – once assumed to be the last surviving Antari – begins to waver under the pressure of competing loyalties. And in the wake of tragedy, can Arnes survive?

WHO WILL RISE?
Lila Bard, once a commonplace – but never common – thief, has survived and flourished through a series of magical trials. But now she must learn to control the magic, before it bleeds her dry. Meanwhile, the disgraced Captain Alucard Emery of the Night Spire collects his crew, attempting a race against time to acquire the impossible.

WHO WILL TAKE CONTROL?
And an ancient enemy returns to claim a crown while a fallen hero tries to save a world in decay.
---
The heavy weight on my chest has been lifted after completing this unbelievably amazing novel – and trilogy! You have no idea how overwhelmed I was when I got to the very last chapter. All three novels just took me on one wild ride in general. It's insane how I never gave these books a chance until now.
Anyway, let's talk about A Conjuring of Light. With it being a bigger book than the other two, there are a lot more added, and everything was just a roller-coaster ride.
I am so happy that I chose to listen to the audio book because it allowed me take my time and enjoy the story by reading at my own pace. I'm truly upset that I finished the trilogy, but it was also a great transition to Adult Fantasy.
---