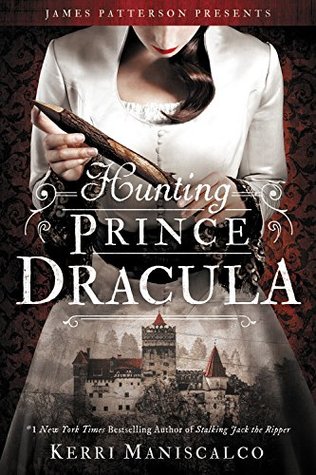 Book Title: Hunting Prince Dracula
Author: Kerri Maniscalco
Book Series: Stalking Jack the Ripper, #2
Reading Format: Hardcover
Rating: ⭐⭐⭐⭐⭐
Bone white. Blood red. Along this path, you'll soon be dead.

Following the horrifying revelation of Jack the Ripper's true identity, Audrey Rose Wadsworth flees her home in Victorian London to enroll as the only female student in Europe's most prestigious forensics school. But it's impossible to find peace in the dark, unsettling Romanian castle that houses the school—and was also once home to the depraved Vlad the Impaler, otherwise known as Prince Dracula.

When a series of troubling deaths brings whispers of Vlad's bloodthirsty return from the grave, Audrey Rose and her sharp-witted companion, Thomas Cresswell, must unravel the cryptic clues that will lead them to the shadowlike killer—living or dead.
---
After reading Stalking Jack the Ripper, I didn't think the sequel would live up to what the first novel was, but I was so wrong. Not only did this book have a little more than the first one, but it also centered around one of my favorites aka Dracula.
I was beyond excited when the title for this book was released because I am obsessed with anything that has to do with Vlad the Impaler. In fact, before I even started this novel I was reading another novel that had to do with this man.
Besides all of that, Hunting Prince Dracula definitely bumped the gore factor just a notch. I mean, the first book was bloody and intense, but I think this one topped it just a little. We did learn more about Thomas's backstory and family, and, to be honest, I was in shock when the reveal of his bloodline appeared on the pages.
WHAT!
Soon after that I was so confused and terrified if he ended up being the one who was murdering all of the people and draining their blood. I was on the edge of my seat soon after that, you have no idea.
---