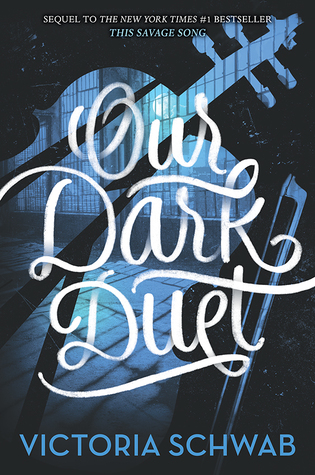 Book Title: Our Dark Duet
Author: Victoria Schwab
Book Series: Monsters of Verity, #2
Published: June 13th, 2017
Reading Format: Hardcover
Rating: ⭐⭐⭐⭐⭐
THE WORLD IS BREAKING. AND SO ARE THEY.

KATE HARKER isn't afraid of monsters. She hunts them. And she's good at it.

AUGUST FLYNN once yearned to be human. He has a part to play. And he will play it, no matter the cost.

THE WAR HAS BEGUN.

THE MONSTERS ARE WINNING.

Kate will have to return to Verity. August will have to let her back in. And a new monster is waiting—one that feeds on chaos and brings out its victims' inner demons.

Which will be harder to conquer: the monsters they face, or the monsters within
---

First off, Our Dark Duet was a tiny bit better than This Savage Song, and that is saying a lot when it comes to me. I usually don't find most sequels to any first books amazing, but this one topped that.
This book was actually my second Victoria Schwab book that I have read and loved. Yes, This Savage Song was the first book of hers that I have read, and I am definitely going to pick up her other books later on this year hopefully.
Anyway, back to Our Dark Duet!
If you are going into this book thinking it will have another happy ending like most books then you are going to be very disappointed. I swear when I got closer to the ending, I was on the verge of tears. Of course, that is nothing new when I get so attached to the characters and then something bad happens.
The writing style for this book is somewhat descriptive and for a dark book like this, it just fits since most of the time the plot is set at night time. I mean, I could be wrong about that but that is just the feeling I got while reading this one mainly.
Victoria's writing is starting to become my favorite. The way she describes these characters is just perfect and I am a little jealous about it because I know my writing style will never be as good as hers.
When I first read This Savage Song the two main characters this story focuses on, didn't quite make me fall in love with them by the first page or chapter. To be honest, Kate actually annoyed me a little bit but when I finished Our Dark Duet, I was crying my eyes out at 2:00 A.M, and I RARELY stay up that late because of all the stuff I do during the day, but that night I had to finish the book because I was getting to a really good part of the story at the time. But, when I got to the last couple of pages…my jaw dropped! How dare Victoria Schwab for doing that. I think she wanted all of us to break down.
Overall, I think Our Dark Duet was the perfect conclusion to this duology. It was darker than the first book – which was what I was hoping for – and it made my heart break more than once.