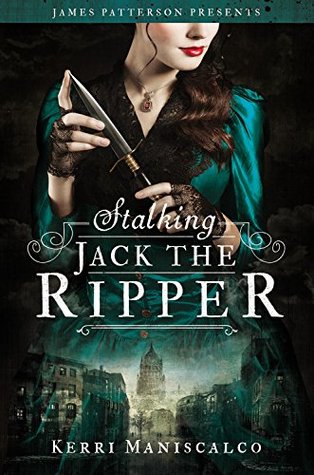 Book Title: Stalking Jack the Ripper
Author: Kerri Maniscalco
Book Series: Stalking Jack the Ripper, #1
Released Date: September 20th, 2016
Rating: ⭐⭐⭐⭐⭐
Seventeen-year-old Audrey Rose Wadsworth was born a lord's daughter, with a life of wealth and privilege stretched out before her. But between the social teas and silk dress fittings, she leads a forbidden secret life.

Against her stern father's wishes and society's expectations, Audrey often slips away to her uncle's laboratory to study the gruesome practice of forensic medicine. When her work on a string of savagely killed corpses drags Audrey into the investigation of a serial murderer, her search for answers brings her close to her own sheltered world.
---
I'm the kind of person who is in love with any story that has a very dark side to it, and I love anything that has to do with History as well, so when I spot this book while I was at the bookstore just to browse, I knew I had to have it for my collection.
Not going to lie, I devoured this book in a matter of days. The plot was just so intriguing that I had the hardest time setting this book down at night and just go to sleep in general.
Of course, the story was a little slow in the beginning, but that is fine with me since it did pick up towards the middle of the story.
The one thing I love the most about a book about Jack the Ripper is you can actually made it your own with, of course, the elements of the actual events.
Definitely another book I will recommend to anyone who is in the mood for something that is bloody and dark.