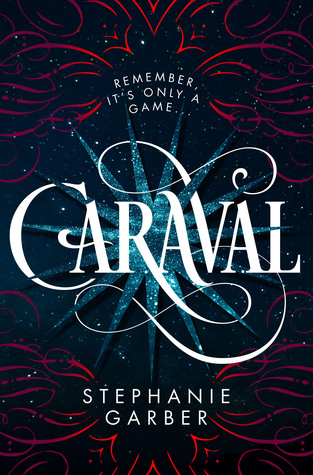 Book Title: Caraval
Author: Stephanie Garber
Book Series: Caraval, #1
Published: January 31st, 2017
Page #: 407
Rating: ⭐⭐⭐⭐
Remember, it's only a game…

Scarlett Dragna has never left the tiny island where she and her sister, Tella, live with their powerful, and cruel, father. Now Scarlett's father has arranged a marriage for her, and Scarlett thinks her dreams of seeing Caraval—the faraway, once-a-year performance where the audience participates in the show—are over.

But this year, Scarlett's long-dreamt-of invitation finally arrives. With the help of a mysterious sailor, Tella whisks Scarlett away to the show. Only, as soon as they arrive, Tella is kidnapped by Caraval's mastermind organizer, Legend. It turns out that this season's Caraval revolves around Tella, and whoever finds her first is the winner.

Scarlett has been told that everything that happens during Caraval is only an elaborate performance. Nevertheless she becomes enmeshed in a game of love, heartbreak, and magic. And whether Caraval is real or not, Scarlett must find Tella before the five nights of the game are over or a dangerous domino effect of consequences will be set off, and her beloved sister will disappear forever.

Welcome, welcome to Caraval…beware of getting swept too far away.
---
Caraval was an amazing book!
I loved it so much. The sister bond in this book was amazing to see through each chapter and towards the end of the book. Of course the reason why I decided to give this four stars instead of five was because the main character was a little annoying in some scenes. Yes, I know that is part of her character development but it did get to me towards the end, but besides that, this book is definitely a five star, no doubt about it.
My love for dark and creepy books definitely went up a little more because of this book. Anyway, if you are looking for a book that's sort of like The Night Circus, then you should check this one out for sure.
---