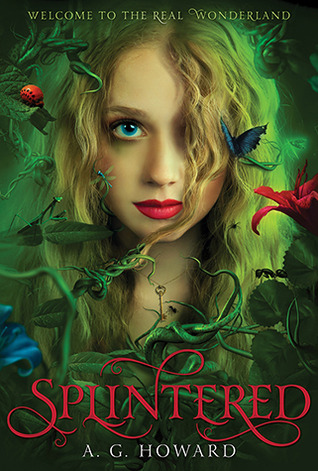 Splintered by A.G Howard
Alyssa Gardner hears the whispers of bugs and flowers—precisely the affliction that landed her mother in a mental hospital years before. This family curse stretches back to her ancestor Alice Liddell, the real-life inspiration for Lewis Carroll's Alice's Adventures in Wonderland. Alyssa might be crazy, but she manages to keep it together. For now.

When her mother's mental health takes a turn for the worse, Alyssa learns that what she thought was fiction is based in terrifying reality. The real Wonderland is a place far darker and more twisted than Lewis Carroll ever let on. There, Alyssa must pass a series of tests, including draining an ocean of Alice's tears, waking the slumbering tea party, and subduing a vicious bandersnatch, to fix Alice's mistakes and save her family. She must also decide whom to trust: Jeb, her gorgeous best friend and secret crush, or the sexy but suspicious Morpheus, her guide through Wonderland, who may have dark motives of his own.
---
Splintered is the only book in the Splintered Trilogy that I actually loved reading. I devoured this book in just a few days. All of the grotesque scenes in this novel was so amazing, and it just fit with the story perfectly.
If anyone is looking for a unique retelling then this one is for you. Of course there are two other books after Splintered, but, in my opinion the Alice in Wonderland story gets twisted and the plot starts to focus on the love triangle that forms between three characters. Don't get me wrong, I loved all three of these books so much, but the first one will remain my favorite, and I am not ashamed about it.
---