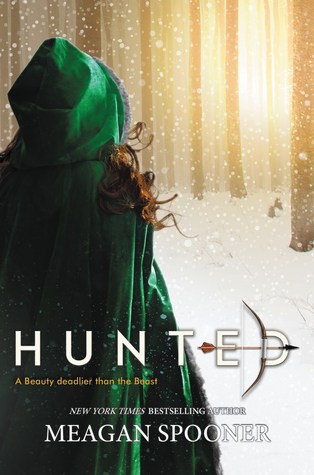 Book Title: Hunted
Author: Meagan Spooner
Published: March 14th, 2017
Reading Format: Hardcover
Rating: ⭐⭐⭐⭐⭐
Beauty knows the Beast's forest in her bones—and in her blood. Though she grew up with the city's highest aristocrats, far from her father's old lodge, she knows that the forest holds secrets and that her father is the only hunter who's ever come close to discovering them.

So when her father loses his fortune and moves Yeva and her sisters back to the outskirts of town, Yeva is secretly relieved. Out in the wilderness, there's no pressure to make idle chatter with vapid baronessas…or to submit to marrying a wealthy gentleman. But Yeva's father's misfortune may have cost him his mind, and when he goes missing in the woods, Yeva sets her sights on one prey: the creature he'd been obsessively tracking just before his disappearance.

Deaf to her sisters' protests, Yeva hunts this strange Beast back into his own territory—a cursed valley, a ruined castle, and a world of creatures that Yeva's only heard about in fairy tales. A world that can bring her ruin or salvation. Who will survive: the Beauty, or the Beast?
So far, Hunted has been the best Beauty and the Beast retelling I have enjoyed this year. I just loved all of the little things that are featured in this book. It gave me so many heart wrenching moments while I was up late at night. Most nights I couldn't even sleep because my mind would be racing with all of the little What ifs every time I would complete a chapter.
If you ask me if I shed a tear when I got towards the end. The answer will be a quick yes. Hunted made me shed multiple tears for various reasons and being a bibliophile, I am proud to say that.
Overall, I absolutely agree on this book staying true to the original story – and succeeding immensely. This book had a lot of raw emotion and I adore that completely.