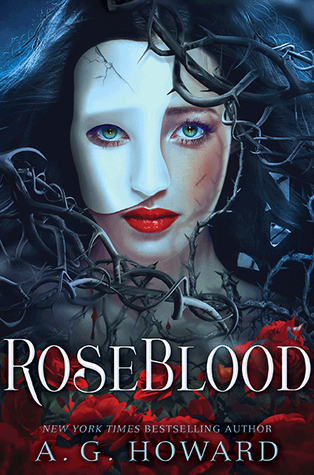 Book Title: RoseBlood
Author: A.G. Howard
Published: January 10th, 2017
Reading Format: Hardcover
Rating: ⭐⭐⭐⭐¹/₂
In this modern day spin on Leroux's gothic tale of unrequited love turned to madness, seventeen-year-old Rune Germain has a mysterious affliction linked to her operatic talent, and a horrifying mistake she's trying to hide. Hoping creative direction will help her, Rune's mother sends her to a French arts conservatory for her senior year, located in an opera house rumored to have ties to The Phantom of the Opera.

At RoseBlood, Rune secretly befriends the masked Thorn—an elusive violinist who not only guides her musical transformation through dreams that seem more real than reality itself, but somehow knows who she is behind her own masks. As the two discover an otherworldly connection and a soul-deep romance blossoms, Thorn's dark agenda comes to light and he's forced to make a deadly choice: lead Rune to her destruction, or face the wrath of the phantom who has haunted the opera house for a century, and is the only father he's ever known.
---
RoseBlood was my very first Phantom of the Opera retelling, and I loved it so much. This book truly stayed true to the original storyline with new characters mixed in. Being a big fan of the Broadway play and original book, I just thought this book was refreshing to read.
I barely remember my feelings while reading the original book, but according to this book, I fell in love with Thorn/Etalon. I don't know why, but this specific character was so well-written that every time I got to his chapter or his part in a chapter, I just got excited (and sometimes, a little sad) to learn more about his background.
Overall, this modern-day retelling was extremely fun. If you love the Broadway show then you definitely should give this book a try. In my opinion I think it is better than A.G. Howard's other trilogy.