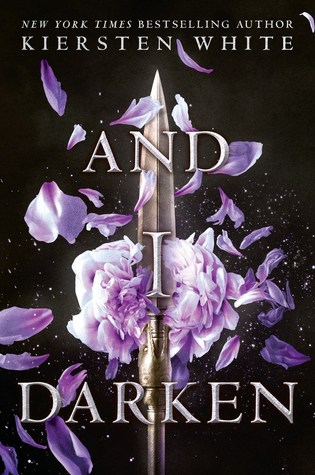 And I Darken by Kiersten White
Book Series: The Conquerors Saga, #1
Published: June 28th, 2016
Reading Format: Hardcover
Rating: ★★★★★
No one expects a princess to be brutal. And Lada Dragwlya likes it that way. Ever since she and her gentle younger brother, Radu, were wrenched from their homeland of Wallachia and abandoned by their father to be raised in the Ottoman courts, Lada has known that being ruthless is the key to survival. She and Radu are doomed to act as pawns in a vicious game, an unseen sword hovering over their every move. For the lineage that makes them special also makes them targets.

Lada despises the Ottomans and bides her time, planning her vengeance for the day when she can return to Wallachia and claim her birthright. Radu longs only for a place where he feels safe. And when they meet Mehmed, the defiant and lonely son of the sultan, Radu feels that he's made a true friend—and Lada wonders if she's finally found someone worthy of her passion.

But Mehmed is heir to the very empire that Lada has sworn to fight against—and that Radu now considers home. Together, Lada, Radu, and Mehmed form a toxic triangle that strains the bonds of love and loyalty to the breaking point.
---
Review & Thoughts
My mind is still reeling from how amazing this book was. I rarely pick up Historical Fiction books, but And I Darken was intriguing to me—and not just because of that beautiful cover. I mean, just look at it.
When I skimmed the back of the book, I was hooked instantly. The story is just interesting since the author changed "Vlad The Impaler" to "Lada The Impaler".
It did take me awhile to get this baby in my hands, but I'm glad the book is finally in my lovely collection.
 ~
Enough of my rambling, let's talk about that book! It is hard to go into detail without spoiling it for anyone who has not read And I Darken yet, but I will try.
First, I absolutely loved how descriptive this book was. I can't explain it because it is weird, but I adore books with descriptive scenes. They just make the characters real, I guess, and Kiersten does amazing at describing each character in exact detail.
Second, Lada's younger brother, Radu, had my heart breaking multiple times. I felt so bad for all the abuse he got in the beginning of the story. Most the time I wanted to scream when he word get hit or something like that, it was insane.
However, this book has opened my eyes to Historical Fiction, and who knows, I might pick up more in the future.
If you have not picked And I Darken up yet, I highly suggest you do or just add it to your list over on Goodreads.