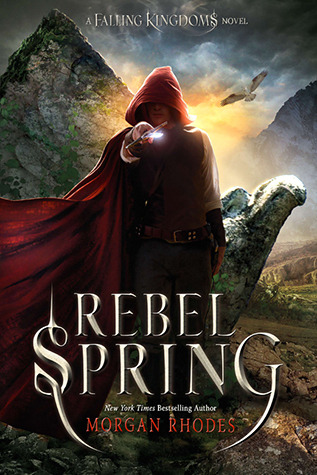 Rebel Spring by Morgan Rhodes
Published on November 27th, 2013
Book Series: Falling Kingdoms, #2
Rating: ★★★★★
Auranos has been conquered and the three kingdoms—Auranos, Limeros, and Paelsia—are now unwillingly united as one country called Mytica. But alluring, dangerous magic still beckons, and with it the chance to rule not just Mytica, but the world. . . .

CLEO is now a prisoner in her own palace, forced to be an ambassador for Mytica as the evil King Gaius lies to her people

MAGNUS stands to eventually inherit the new kingdom but is still obsessed with his feelings for his adopted sister, Lucia.

LUCIA is haunted by the deadly outcome of her breathtaking display of magic that allowed her father to capture the kingdoms JONAS watches at the palace gates, a troop of rebels behind him, waiting for him to tell them how he plans to overtake King Gaius When Gaius announces that a road is to be built into the Forbidden Mountains, formally linking all of Mytica together, he sets off a chain of cataclysmic events that will forever change the face of this land.
---
Review + Thoughts
Rebel Spring was one of the best sequels I have read in the longest time. There is a lot more action and drama in this book, making it one of my favorites so far. I am more in love with some characters than I was while reading the first book.
Honestly, this series is at the top of my favorites list. Yes, this series has multiple character point of views and sometimes that does not turn out well for most books, but with the Falling Kingdoms series in this case, the multiple character point of views are glorious. We – the readers – get to feel what each character is feeling and so forth.
So far, my favorite characters are both Magnus, Lucia and Cleo. I can't explain why due to little spoilers if you have not this book or started the series yet, but just wait and see.