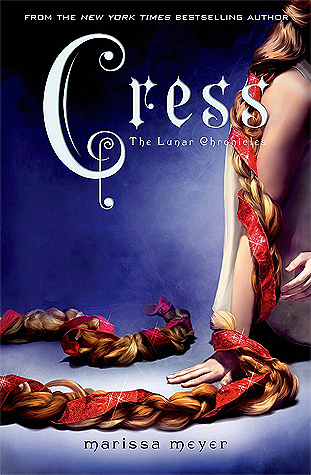 Cress by Marissa Meyer
Published on February 4th 2014
Book Series: Lunar Chronicles, #3
Rating: ★★★★★
Even in the future. there are damsels in distress…

In the third installment of the Lunar chronicles, Cress, having risked everything to warn Cinder of Queen Levana's evil plan, has a slight problem. She's been imprisoned on a satellite since childhood and has only ever had her netscreens as company. All that screen time has made Cress a great hacker. Unfortunately, she's just received orders from Levana to track down Cinder and her handsome accomplice.

When a daring rescue of Cress involving Cinder, Captain Thorne, Scarlet, and Wolf goes awry, the group is separated. Cress finally has her freedom, but it comes as a high price. Meanwhile, Levana will let nothing prevent her marriage to emperor Kai. Cress, Scarlet and Cinder may not have signed up to save the world, but they may be the only hope the world has.
---
My Review:
Cress was my absolute favorite out of this series. Not only was the plot a little bit better, but Rapunzel is – and forever will be – my favorite fairytale. It holds a very special place in my heart next to another classic.
This book was bigger than the previous two which made it even better, in my opinion. We got to see a lot more stuff happen including the romance. Ah, the beautiful romance every book has. Out of all of the relationships mentioned in this series, I have to say, Cress and Thorne are the absolute best. They are hands down my #1 OTP in this series.
Both of them are just so cute. I love how shy Cress is in the beginning after meeting Captain Thorn. I just — yeah. It's the most adorable thing ever.
I have so many fictional OTPs, it's insane. Don't judge
---
The World:
The world Marissa Meyer has created for Cress and the rest of the books is just unique and hands down amazing. Every little detail that is mentioned is so beautiful. For me, it makes it easier to imagine that place when I close my eyes. I absolutely love that it takes place in the future; making it completely different from the original fairytales.
---
STORY LINE / PLOT:
Beautiful, beautiful, beautiful. Like I said moments ago, This is a beautiful retelling of some of the best fairytales that has ever been written. I mean, I own the Barnes & Noble edition of the Grimm Brothers' fairytales, so reading these books is just like reading theirs but with a twist. The main thing that made me so happy was the part at the end with Cress and Thorne, because it was just like the fairytale, but only slightly different. I can't give too much away, however, if you have read the original fairytale then you probably already know what I'm talking about.
Anyways, I was just happy Marissa didn't soften the story up with anything else.
---
Lastly, this book was fantastic. I loved it so much. Of course, some parts did annoy me but it wasn't that bad. I highly recommend this book to anyone who loves fairytale retellings just as much as I do. But I think I like Peter Pan retellings a little bit more.