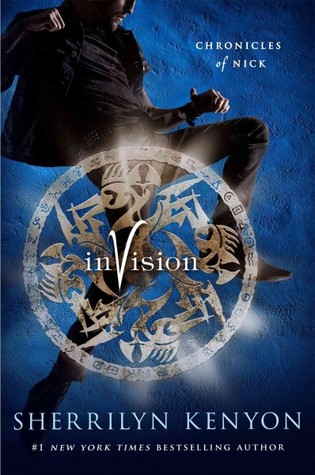 Invision by Sherrilyn Kenyon
Published: May 3rd, 2016
Think your life is complicated and confusing? Nick Gautier was born to bring about the end of the world…It's not easy being the heir of a demon overlord.
But Nick is determined to thwart his destiny and get into a good college. To be more than his genetics and prophecy foretell. No one is ever going to tell this stubborn Cajun who and what he really is. Or how to live his life.
Not even the Fates of the Universe. But now that he and his team of ancient gods and demons have claimed the Eye of Ananke and he sees the missteps of the future, he has to battle the demons within that are far deadlier and more treacherous than any he's battled before. All the while his arch nemesis is back and determined to reclaim his place as the harbinger for Armageddon. Even if it means killing Nick and barbecuing everyone he loves to do so.
---
My goodness, this book was so good, better than the last one, in my opinion.
Invision was literally a rollercoaster of feels for me. I couldn't put this book down for the life of me. Every chapter was wilder than the last; making me want to read more.
In this book, we get to learn more about Nick's demon alter ego and so forth. I honestly don't want to give too much away since all of my reviews are spoiler-free, but, oh my god. If you have not started this series, I suggest you put it on your long TBR list, because this series is just mind blown.
But, I do have to warn you that it is a teen series in the beginning but, then it'll turn into YA.
I'm pretty sure the last book in the series will lean more towards Adult, because Chronicles of Nick is the prequel to Sherrilyn's adult series (Dark Hunters).
Overall, this book was beautiful. I can't wait to get my hands on the next book.
---
Find Me Here: