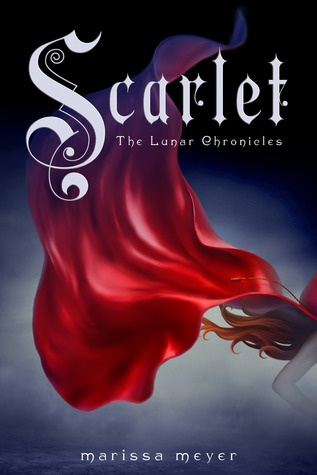 Scarlet by Melissa Meyer
Published: February 5th, 2013
Halfway around the world, Scarlet Benoit's grandmother is missing. It turns out there are many things Scarlet doesn't know about her grandmother or the grave danger she has lived in her whole life. When Scarlet encounters Wolf, a street fighter who may have information as to her grandmother's whereabouts, she is loath to trust this stranger, but is inexplicably drawn to him, and he to her. As Scarlet and Wolf unravel one mystery, they encounter another when they meet Cinder. Now, all of them must stay one step ahead of the vicious Lunar Queen Levana, who will do anything for the handsome Prince Kai to become her husband, her king, her prisoner.
Review & Thoughts
Scarlet was beyond amazing. I loved everything about it, not only because it is a retelling, but because it is just pure perfection. This one was by far better than Cinder and that is saying a lot coming from me. I usually don't like the sequel to books all that much.
"I knew they would kill me when they found out, but…" He struggled for words, releasing a sharp breath. "I think I realized that I would rather die because I betrayed them, than live because I betrayed you."
Ugh, the relationships featured in this book makes my heart melt and makes me jealous. I mean, can I please have a guy like Wolf? I'm serious, just give me one like him. Sure, he's moody and all, but, the way he is around Scarlet just melts my heart.
"But you're the only one, Scarlet. You'll always be the only one."
If you haven't already picked this book up or series, then…what are you waiting for? Start reading this series, it is gorgeous, and by far my favorite retelling.
{✩✩✩✩✩}