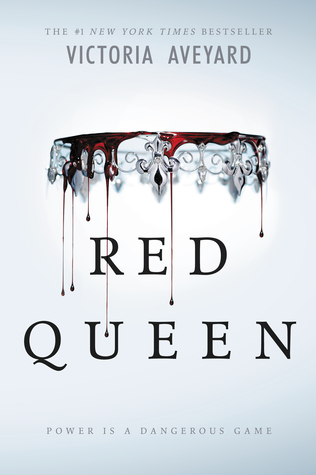 Title: Red Queen (Red Queen #1)
Author: Victoria Aveyard
Published: February 10th, 2015
Pages: 383
Reading Format: Hardcover
Rating: ✯✯✯✯✯
---
Book Synopsis:
This is a world divided by blood – red or silver.
The Reds are commoners, ruled by a Silver elite in possession of god-like superpowers. And to Mare Barrow, a seventeen-year-old Red girl from the poverty-stricken Stilts, it seems like nothing will ever change.
That is, until she finds herself working in the Silver Palace. Here, surrounded by the people she hates the most, Mare discovers that, despite her red blood, she possesses a deadly power of her own. One that threatens to destroy the balance of power.
Fearful of Mare's potential, the Silvers hide her in plain view, declaring her a long-lost Silver princess, now engaged to a Silver prince. Despite knowing that one misstep would mean her death, Mare works silently to help the Red Guard, a militant resistance group, and bring down the Silver regime.
But this is a world of betrayal and lies, and Mare has entered a dangerous dance – Reds against Silvers, prince against prince, and Mare against her own heart …
 Review & Thoughts:
This book. WOW. Red Queen was one of my anticipated reads of 2016 since I got it for my birthday last year and wow. I am still in shock over that unbelievable ending. I just can't believe that betrayal. A lot of people were talking about it so I knew it was coming but I had no idea it was going to be that character who would betray Mare in the end.
I just can't believe it.
Honestly, in the beginning or towards the middle they were my OTP for this book but now that's changed.
What the heck?
This book is definitely the kind with big huge plot twists I have seen in a long time. I still can't wrap my head around it.
* * *
Besides the plot twist, the writing in this book is fantastic. It is well written and in first person! Sometimes, authors lack in detail when it comes to first person but Victoria is a queen when it comes to her beautiful writing.
Before you disagree with me, try reading more books in the same writing format and then read this. Trust me.
* * *
If you have read this book then leave a comment below and if you haven't then go read it.