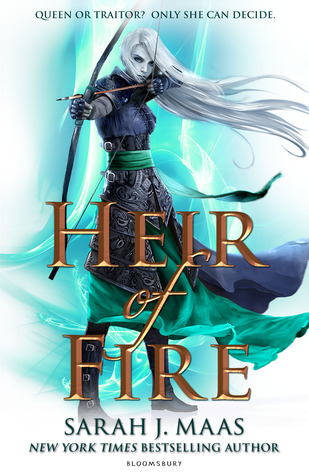 Title: Heir of Fire (Throne of Glass, #3)
Author: Sarah J. Maas
Published: September 2nd, 2014
Reading Format: Paperback
Rating: ✰✰✰✰✰ ¹/₂
---
Book Synopsis:
She was the heir of ash and fire, and she would bow to no one.
Celaena Sardothien has survived deadly contests and shattering heartbreak—but at an unspeakable cost. Now she must travel to a new land to confront her darkest truth…a truth about her heritage that could change her life—and her future—forever.
Meanwhile, brutal and monstrous forces are gathering on the horizon, intent on enslaving her world. To defeat them, Celaena must find the strength to not only fight her inner demons but to battle the evil that is about to be unleashed.
Review / Thoughts:
This book – I mean, series – is truly amazing. When I started reading Throne of Glass I was a little hesitant. I mean, yeah, a lot of people said these books are amazing but, coming from someone who hardly reads fantasy, I was like Eh, I doubt it but after I finished the first two books in like three or two weeks, I was in love with everything that had to do with this beautiful world.
It had everything that I love about books. Drama, romance and so much more. If you haven't picked this series up yet, you need to. Trust me, it is beautiful. Everything about it.