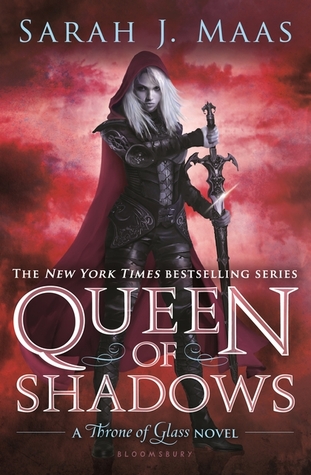 Title: Queen of Shadows (Throne of Glass, #4)
Author: Sarah J. Maas
Published: September 1st, 2015
Reading Format: Hardcover
Rating: ✰✰✰✰✰
---
Book Synopsis:
Everyone Celaena Sardothien loves has been taken from her. But she's at last returned to the empire—for vengeance, to rescue her once-glorious kingdom, and to confront the shadows of her past . . .
She will fight for her cousin, a warrior prepared to die just to see her again. She will fight for her friend, a young man trapped in an unspeakable prison. And she will fight for her people, enslaved to a brutal king and awaiting their lost queen's triumphant return.
Celaena's epic journey has captured the hearts and imaginations of millions across the globe. This fourth volume will hold readers rapt as Celaena's story builds to a passionate, agonizing crescendo that might just shatter her world.
Review / Thoughts:
Yes, I have finished the newest book in the Throne of Glass series and loved every minute of it. More than the other books in the series, to be honest. It had my pulse racing every time I started a new chapter. I won't spoil the book for the people who haven't read it yet but if you have then oh my gosh, the middle of the book had me furious. Well, most of the chapters made me want to throw the book at a wall but being a lover of books, I couldn't have the heart to damage it.
Overall, I'm actually excited for the next book. But I hate that I have to wait for so long. Ugh, the torture. ❤❤